Electric Vehicle Offers & Information
Rebate Available on Nissan LEAF electric vehicles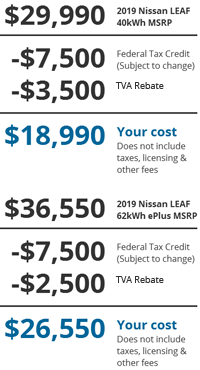 TVA has partnered with Nissan to offer rebates on the all-electric 2019 Nissan LEAF. If you are a customer, member or employee of TVA or one of the 154 local power company that purchase power from TVA, you are eligible for a rebate of $3,500 on the 2019 Nissan LEAF 40 kWh Standard and a rebate of $2,500 on the 2019 Nissan LEAF 62 kWh ePlus.
• $3,500 on the 2019 Nissan LEAF 40 kWh Standard
• $2,500 on the 2019 Nissan LEAF 62 kWh ePlus
• These rebates expire January 2, 2020
• Subject to restrictions
Electric Vehicle Federal Tax Credit up to $7,500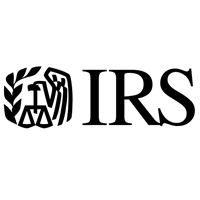 A federal income tax credit up to $7,500 is available for the purchase of a new qualified plug-in electric vehicle with a battery that has at least five kilowatt-hours (kWh) of capacity, uses an external source of energy to recharge, has a gross vehicle weight rating of up to 14,000 pounds, and meets specified emission standards. The minimum credit amount is $2,500, and the credit may be up to $7,500, based on each vehicle's battery capacity and the gross vehicle weight rating.
The credit begins to phase out for each vehicle manufacturer once they have sold 200,000 eligible plug-in electric vehicles in the United States (as counted from January 1, 2010). The IRS will announce when a manufacturer exceeds this production volume and will announce the subsequent phase out schedule on the IRS website.
As of 4/1/2019, both Tesla and Chevrolet have entered the sunset period for the Federal tax credit, this period being based on total unit sales. As of July 1, 2019, the tax credit value for Tesla is $1,875, expiring December 31. Tesla recently announced price drops in response to the reduced credits. Chevrolet's credit has been reduced to $3,750 through September 30, 2019, and $1,875 through March 31, 2020.
• Consult your tax adviser to make sure you qualify
• Max tax credit $7,500
Consider Installing a Level 2 (240V) Electric Vehicle Charger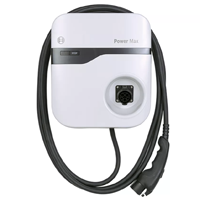 Level 2 electric vehicle supply equipment (EVSE) provides charging through a 240 V AC plug. Level 2 adds about 10 to 60 miles of range to a vehicle per hour of charging time, making it far more convenient than standard 120 V AC charging, which adds about 2 to 5 miles per hour of charging. Additionally, level 2 charging is a more energy-efficient method of charging, as most EV have on-board components that require additional electricity the entire time the EV is plugged in.
• Level 2 chargers are four to six times faster than using a standard home outlet
• More efficient charging than standard outlet (120V) charging
• Many units come with additional controls, such as timers and wifi connectivity